TOKYO SKYTREE®

Notification

Please be aware that TOKYO SKYTREE will be closed on 29th and 30th July.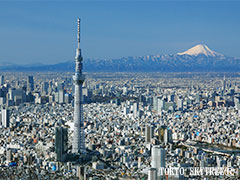 Located in Tokyo Sumida district,On may 2012, "TOKYO SKYTREE®" has opened. Boasting a height of 634m(2,080ft),making it the world's tallest broadcast tower, "TOKYO SKYTREE®" has already become a new landmark of Tokyo.

Plus, there is over 300 shops included giant commercial facility, named "TOKYO SKYTREE TOWN®," including many shops and restaurants, as well as an aquarium and planetarium, and more.

★On 2013,"TOKYO SKYTREE®" awarded two stars, and the aquarium awarded one star in the Michelin Tourism Guide.
TOKYO SKYTREE RELATED PLANS/TOURS
ONE DAY TOUR(SELF ORGANIZED)
Business Hours:
8:00a.m. to 10:00 p.m.
Ticket Types:
1.Time-and-Date Specified Ticket
2.Date Specified Ticket
3.Walk-in Ticket

Admission
Ticket Type
Admission
Applicable Service
Adults
Juniors
Children
Young Children
(18+)
(12-17)
(6-11)
(4-5)
 
Hight Schooler
Middle Schooler
 
 
Individual
TEMBO DECK
JPY 2,060
JPY 1,540
JPY 930
JPY 620
Discount Service for
physically-challenged person
(350m/1148ft)
TEMBO GALLERIA
JPY 1,030
JPY 820
JPY 510
JPY 310
Discount Service for
physically-challenged person
(450m/1476ft)
Group
TEMBO DECK
JPY 1,850
JPY 1,390
JPY 830
JPY 560
Group General
size: must be 25 or over
(350m/1148ft)
JPY 1,650
JPY 1,230
JPY 1,080
JPY 740
JPY 490
Group School
*No charge for under age 3.
*Extra JPY 500 for time-and-date specified Ticket.
*For applying any types of group-admissions, an advanced reservation must be required.
Access Map
*