Tobu Railway
Offering a wide range of services on the largest private rail system in the Kanto region.

Tobu Railway's massive network extends through Tokyo as well as four surrounding prefectures: Chiba, Saitama, Tochigi, and Gunma. With 463.3 kilometers of operating track, Tobu is Kanto's largest private railway and is used by commuters, students, business travelers, and tourists.
Tobu Railways is one of many companies that is part of the Tobu Group, which also operates health clubs, golf courses, theme parks, and hotels. These include Tobu World Square, where the world's most famous structures are re-created at 1:25 scale; the Courtyard Marriott Ginza Tobu Hotel and the Tobu Hotel Levant Tokyo, operated in partnership with the Marriott Group. The Tobu Group also develops and manages condominiums, housing developments, department stores, and various other properties along its railways and in Tokyo as well.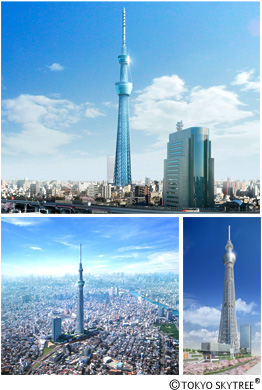 The Tokyo Sky Tree® tower, which will open in 2012, is also being constructed by an organization led by the Tobu Railway Group. When completed, it will be the world's tallest self-supporting radio tower with a height of 634 m. Various commercial attractions, including an aquarium and a planetarium, will open at the foot of the Tokyo Sky Tree® to meet the needs of a new urban area where visitors can enjoy shopping, dining and various other experiences. The tower is scheduled to open in spring 2012.
Tobu Railway provides services to connect the Tokyo Sky Tree®, which will become Japan's newest tourist spot, and Nikko, a world heritage site where tourists can experience traditional Japanese culture.
Enjoy your stay in Japan using Tobu Railway's low-price passes.
TOBU RAILWAY OFFICIAL WEBSITE