Asakusa
The center of Shitamachi (old-fashioned downtown) in Tokyo (1hour from Haneda and Narita Airport and Only 20min from Tokyo Station), Asakusa is one of few areas where visitors can enjoy the culture of the Edo period (1603-1868).
The main attraction of the city is "Senso-ji" temple; one of the most popular Buddhist temples in Japan, and was built in the 7th century. The temple has been approached via a shopping street, named "Nakamise street," known as the oldest shopping street in Japan.
The street has provided variety of traditional foods and products, and unique souvenirs for centuries towards visitors.
Senso-ji Temple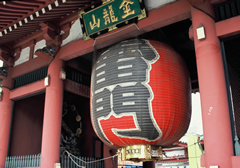 The oldest and most popular temple in Tokyo, built in 7th century. It's located in the center of Asakusa area.
When approaching the temple, people first enter through the Kaminarimon gate (the Thunder Gate); the first of two gates of the Senso-ji temple.
Today, its gate has got into the symbol of Asakusa.
Main Shopping Street:Nakamise Street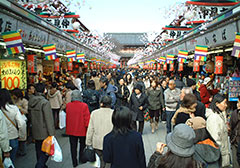 Nakamise is one of the oldest shopping Street in Japan.
During late 17th century and early 18th century, those neighbors who performed receiving and serving visitors in Sensoji Temple were given special right to open their shops in the approach to the temple. This was said to be the beginning of Nakamise.
Length of its street is approximately 250m/274 yards, and having 89 shops (54 shops in East side and 35 shops in West side).
Good old Japanese-style bar street:Hoppy Street
The place that attracts gourmets from far and wide is Asakusa. Not only fine Japanese restaurants are lined up, but also Asakusa is well known as the place where has hidden fine Japanese style bars.
Specialty of all Japanese style bars is usually Yakitori (grilled chicken) and stewed fancy meats. Enjoying these "nibbles" over a beer-alike alcohol drink, named hoppy (cutting distilled spirit with soda) is a standard style of smart drinkers.
One of 3 major Festival in Tkyo:Sanja Festival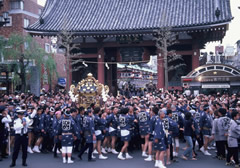 One of the three remarkable festivals in Tokyo is Sanja festival; along with the Kanda festival and Sanno festival.
The festival is held in honor of the three persons who founded Senso-ji temple.
Sanja festival is held on the third weekend of every May at Asakusa Shrine.
The Day of 46000 Blessing & The Chinese Lantern Plant Fair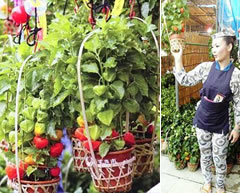 At the Senso-ji Temple in Asakusa, the Japanese unique traditional event, called the Day of 46000 Blessings (Yonman-rokusen-nichi,) takes place in every 10th of July.
As legend goes, if a person prays at the temple on this day, he/she would be the equivalent of 46000 days of prayers.Plus, Hozuki Ichi (the Chinese Lantern Plant Fair) also takes place in July 9th and 10th of July at Senso-ji temple.
The Hozuki plants sold here are cultivated in Shikabone-cho in Edogawa-ku, and are really wonderful.
The Oldest Amusement Park:Hanayashiki
The oldest amusement park in Japan, Hanayashiki has opened in 1853.
its site area is very small, yet, having more than 20 "uniquely" enjoyable attractions and 10 shops including restaurants. It's located very close to Sensoji-temple.
Plus, a variety of very unique events are ongoing including a dress-up event monthly.
Sumida River Fireworks Festival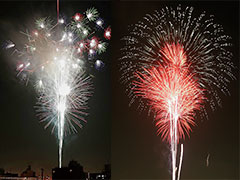 The Sumida River Fireworks Festival is the most gorgeous firework festivals in Japan, and is held on the last Saturday in July.
The origin of the festival can be tracked back to 1793. At tat time, in Edo area (today called Tokyo), hygienic management was poorly equipped, and people died of the plague in Japan including in Asakusa area in 1792.In July of next year, the first Sumida River Fireworks Festival was held to mourn the victims.
Unlike fireworks displays in other countries, interestingly, the Sumida River Fireworks Festival follows the Japan's traditional way of being an intense competition between rival pyrotechnic groups. Over 1.5 million visitors come to Asakusa area for enjoying the festival annually.
Year-end Fair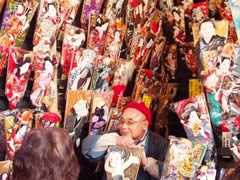 Annually, for only 3 days from the 17th to 19th of December, yearend-unique fair, named the Hagoita (battledore) Fair, takes place on the grounds of Senso-ji Temple with cheerful atmosphere.
A hagoita is often decorated with the figures of popular Kabuki (e.g., Sukeroku and Fuji musume) and the persons of the year including sport athletes and artists.
Around 50,000 battledores are sold in only 3 days, and is usually displayed in a house as a New Year's ornament.
Imato Shrine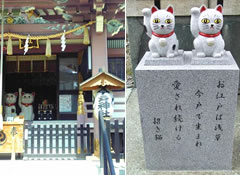 Located 20 minutes walk away from Tobu Asakusa Station, Imato Shrine not only is a historically famous place, but is popular amongst young women as a shrine to the god of marriage.The shrine also is very known as the birthplace of Maneki-neko, cat with a beckoning paw/welcoming cat.
As legend goes, Cats are considered to invite people and fortune into their homes and person itself. Manekineko, therefore, has one paw raised to beckon them inside.
A cat with rising right paw is believed to make achieve affluence in the person's life financially, and a cat with rising left paw is believed to bring an encounter with other-sex peers.