Yunishigawa Onsen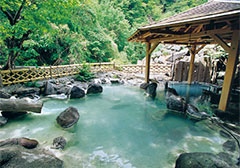 Small Onsen town, yet, Yunishigawa Onsen is well known for the place that has many great legends and myths related to Taira clan (a.k.a., the Heike clan).
Yunishigawa Onsen area has been developed with the fugitive Heike Clan since 1185. The Heike Clan battled against the Genji Clan for establishing political superiority in Japan, yet, was defeated in 1185 (very known as The Battle of Dan-no-ura).
After the battle ended, many fleeing Heike warriors with their families fled into hiding in remote regions of Japan, and Yunishigawa was the one where Taira refugee found a spot to hide and built a new way of life with great Yunishigawa Onsen.
It is located 1 hour ride deeper into the mountains from Kinugawa Onsen on wheels.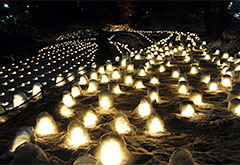 >January – March: The Yunishigawa Kamakura Festival
The Yunishigawa Kamakura Festival is held over a period of almost three months from mid January to late March, and hundreds of snow houses are built and illuminated by candle lights.
Visitors can enjoy fantastic beauty of scenery during winter season.
Heike no Sato:Village of the Heike Clan
For passing down traditional the Heike clan's culture including lifestyle and history, exact800 years later the Heike clan was
defeated by the Genji clan, in 1985, the theme park, named "Heike no Sato (Village of the Heike clan)" was constructed.
Settlements of the Heike Clan
Japanese thatched roof homes are lined up along Yunishi River.
Visitors can command a stunning view of good old days of Japan.
Traditional Festivals
Yunishigawa Onsen also is well known for the place where very interesting and unique annual events are held.
>June 5th - 7th: Fugitive Heike Clan Great Festival
Fugitive Heike Clan Great Festival is the most famous event in Yunishigawa Onsen Area.
The grand scene of samurais' procession unrolls like a picture scroll from the Heian period (794-1185).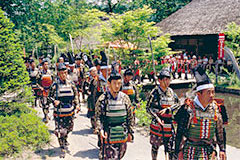 >July 7th - 31st: Evening of Bamboo Festival
The glow of candlelight gives the town a romantic atmosphere.
This great romantic event is a summer scene in Yunishiagwa Onsen.
>Aug 15th: Yudonosan Shrine
The shrine is dedicated to the God of hot spring, and is the ancient guardian deity of the Yunishigawa Onsen.
In every August, Yudonosan Shrine Great Festival is held, and all community residents are participating, and dragon dances are performed.