Kinugawa Onsen
Located only 2 hours by rain from Tokyo's Asakusa distrcit, Kinugawa Onsen was first found in approximately 300 years ago.
The area has been extensively developed for tourism since 1970s, and became one of the most famous and finest Onsen towns in Japan.
The name "Kinugawa" means Angry Demon River. The exact provenance is unclear, yet, the explanation is that this comes from the raging waters within most likely; the river is today dammed and considerably much more gentle.
Tobu World Square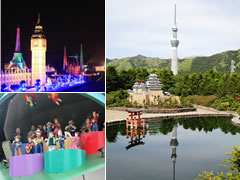 Tobu World Square is a theme park, located in kinugawa Onsen.
It contains over a hundred 1:25 scale models of historically world's famous and important buildings including UNESCO-designated World Cultural and Heritage Sites, and completed with 140,000 1:25 miniature people.
On 24 April in 2010, the 1:25 scale model of the TOKYO SKYTREE®, which is the world's highest telecommunication tower, was unveiled at the park.
Edo Wonderland / Nikko Edo Village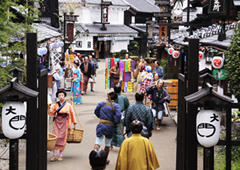 Edo Wonderland (former named Nikko Edo Mura) is a Japan's historical theme park recreating a town life during the Edo period.
The park its self is really a small town; built in Edo style architecture.
Visitors have a chance to dress up such as Ninja, Samurai, and more historically interesting costumes.
Kinugawa River Boat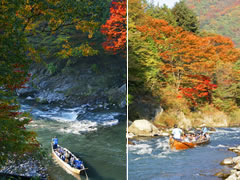 A gentle-ride-down beautiful Kinugawa river.
As people glide down the emerald-green river, one can listen to the stories of the river by a boat-captain.The ride is relatively smooth and enjoyable.
Surprisingly, the great hollywood star, "Leonardo Dicaprio," enjoyed on this ride.
Five Bridge Tour
This two-hour, six-kilometer walking tour takes you over five bridges crossing the emerald-green waters of the Kinu River.
Each bridge has its own special charm and unique views, including a pedestrian bridge, a suspension bridge, and a bridge with an especially stunning view of the river valley.
Kinugawa Onsen Ropeway&Monkey Mountain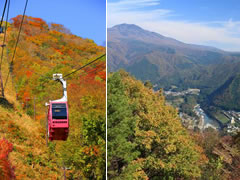 Board the ropeway, and in 3 minutes visitors are at the summit of Mt. Maruyama.
The view of the Nasu highland mountain range and the Kinu River valley is breathtakingly beautiful. Visitors can also see the monkeys and deer frolic at Monkey Mountain and visit the Onsen Shrine.
Plus, visitors can have slight chance to see the TOKYO SKYTREE® with any luck.
Ryuokyo Valley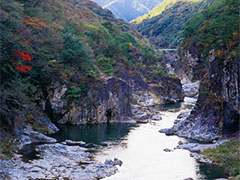 This gorgeous valley is in Kinugawa Onsen Area. People who stay at Kinugawa Onsen prefer to go there, a beautiful healing spot.
It is very enjoyable for hiking with viewing of its strange rock formations and beautiful natures which make a new face in each season.