Sumida ward
Sumida-ku is one of the 23 special wards of Tokyo, and is located in the northeastern part of the mainland portion of Tokyo.
Interestingly, many of well known celebrities are closely linked by fate to Sumida.
i.e., the Tokugawa Shoguns, Ryunosuke Akutagawa, Heizo Hasegawa(a.k.a., Onihei), Katsu Kaishu, Mori Ogai,and Jirokichi Nakamura (a.k.a., Nezumi Kozo;historically, the most famous thief and folk-hero who lived in Edo period).

Of course, the Sumida has plenty of tourist attractions as well including Geisha of the famous Mukojima district, Ryogoku (the heart of Sumo Wrestling), and the TOKYO SKYTREE(R) .
Mukojima: Geisha District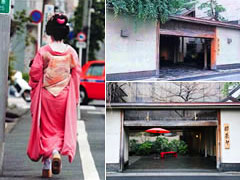 Mukojima is one of the most famous geisha districts, which is called Hanamachi (literally "flower town"), and has one of the largest number of geisha in Japan.
Visitors can enjoy traditional geisha entertainment, named "Hana no Ozashiki" (a geisha show with fascinating songs and dances).
Cherry Blossom at Bokutei
The cherry trees on the banks of the Sumida River (bokutei) trace their origin to saplings planted by the order of
Tokugawa Yoshimune,the eighth shogun, in 1717.
Ryogoku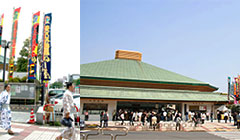 The sumo wrestling stadium, many sumo wrestling stables, chanko nabe (hot pot dish that Sumo wrestlers prefer to eat) restaurants and other sumo-related sights can be found in Ryogoku district.This is the heart of the Sumo culture.
Yes, visitors have great chance to meet Sumo Wrestler in the town.
Edo-Tokyo Museum
The Edo-Tokyo Museum was founded in 1993, and focuses on the Japanese history 400 years ago that is know as the Edo period.
The museum has around 2,500 items on display, such as Ukiyo-e paintings, picture scrolls, kimonos and documents. There's also life-size replicas of shops and homes that would have been located in the Nihonbashi neighborhood during the Edo period.
Long-established fine Japanese Confectionery
Kototoi Dango, the very famous and long-established Japanese-style confectionery (rice dumpling) shop, has opened near the Kototoi bridge at Mukojima district since the end of Edo period (around 1800).
With the beautiful scenery near the Sumida river, the shop has commanded wide popularity amongst sweet-lovers.
Moreover, there are 2 major types of Sakura-mochi (cherry flavored soft sweet rice cake) in Japan, and one of two was originally borrn at Chome-ji temple in Sumida district, named Chomei-mochi around 19th century.For grabbing a quick break, both Japanese confections are the best place for sweets lovers.

>&gtKototoi Dango
5-5-22 Mukoujima, Sumida-ku,Tokyo
TEL:+81(0)3-3622-0081

>&gtChomei-ji Mochi
5-1-14 Mukojima Sumida-ku,TOKYO
TEL:+81(0)3-3622-3266
The Seven Gods of Good Fortune of the Sumida River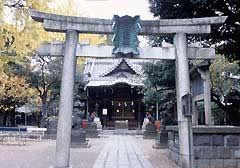 A New Year's custom, which started in the Edo period, is to visit seven of temples and shrines to see the Seven Gods of Good Fortune.
Each God has traditional Attribute:
1. Hotei: God of God of Contentment & Happiness
2. Jurojin: God of longevity
3. Fukurokuju: God of happiness, wealth and longevity
4. Bishamonten: God of warriors
5. Benzaiten (a.k.a., Benten-sama): Goddess of knowledge; art and beauty,
especially music
6. Daikokuten: God of wealth, commerce, and trade
7. Ebisu: God of fishers or merchants, often depicted carrying a sea bream
Visiting the seven shrines of the Seven Gods of Good Fortune has been a popular New Year's tradition entire Japan, yet, Sumida one is said to be the beginning of this great custom.

The Route for the Seven Gods of Good Fortune of the Sumida River:(120min walking trip)
-> Mimeguri Shrine: dedicated to Ebisu and Daikokuten -> 5min walk
-> Kofukuji Temple: dedicated to Hotei -> 2min walk
-> Chomeji Temple: dedicated to Benzaiten -> 15min walk
-> Mukojima Flower Garden: dedicated to Fukurookuju -> 5min Walk
-> Shirahige Shrine: dedicated to Jurojin -> 25min walk
-> Tamonji Temple: dedicated to Bishamonten